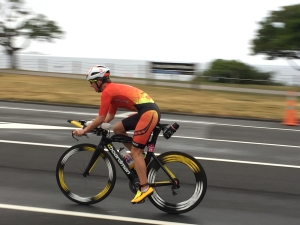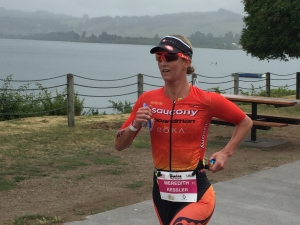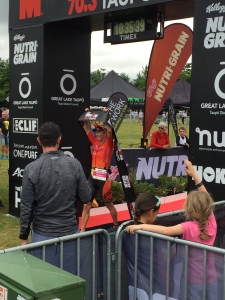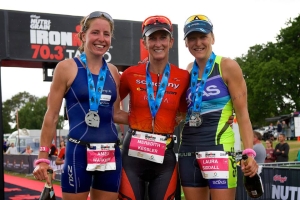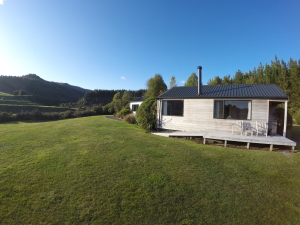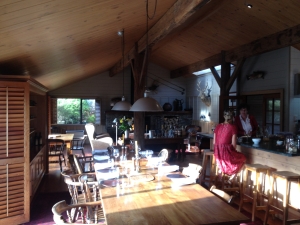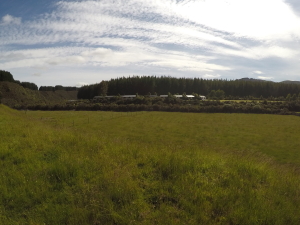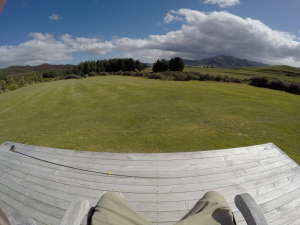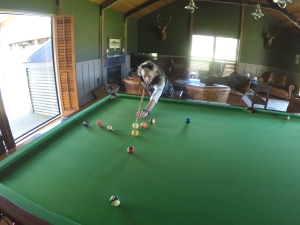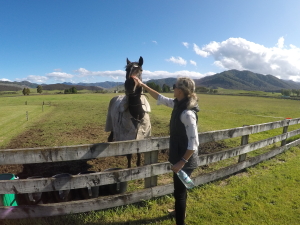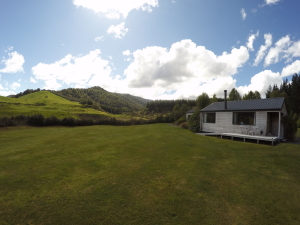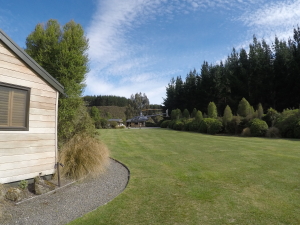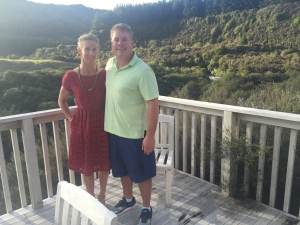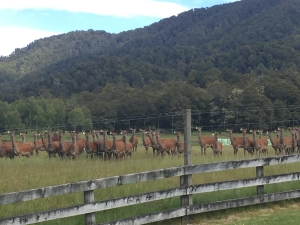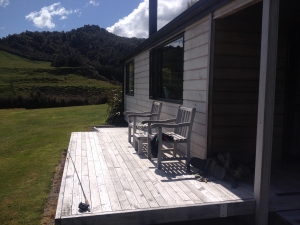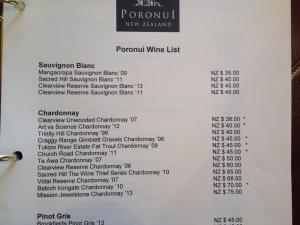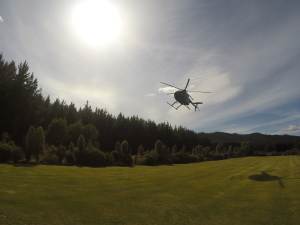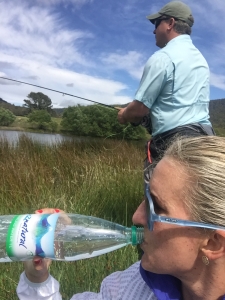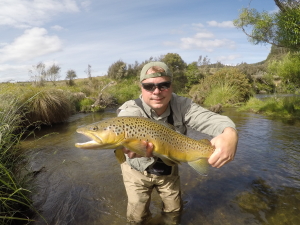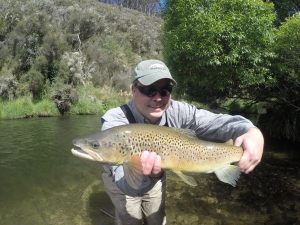 When my husband, Aaron, and I found out that Ironman Auckland 70.3 in January was being relocated to Taupo, New Zealand in December we were of course sad to see it leave the beautiful iconic city yet also elated that another race was in Taupo, our home away from home! We have raced Ironman New Zealand for the past four years and each time, we have become more connected to the community of Taupo and in love with the beauty. The clean air, generous people, farm to table dining, fly fishing, and scenery make it a treat for us to keep coming back. We feel at ease when we step on the Air New Zealand flight as we know we are going to our happy place, excited when we see Auckland, and have joyful anticipation making the drive to Taupo. When we take our first bite of Taupo Thai food dining on our porch at the Prince Motor Lodge, we know we have made it and we are home.
We decided in August of 2015 to go back to New Zealand for a 2nd time after the Ironman New Zealand in March and race Ironman Taupo 70.3. We did this as a little reward to ourselves after a jam packed season of racing. We knew we could unwind, rest our weary bones, and truly enjoy the sights and sounds of one of our favorite countries. The triathlete body (for everyone) is understandably worn down after a long season of training and racing and mine was no exception. After completing Ironman Arizona on November 15th, it was the 11th race of the year and so the 12th and final one was going to be a challenge. Having been sick for the better part of a month between IMAZ and Taupo 70.3, when we finally arrived in Taupo, we were pumped to recover a bit several days leading up to the race.
At this time in the season, there is no use trying to get fitter. You are trying to maintain your current state and concentrate on hydration, nutrition, rest and overall muscle and mind recovery. This makes New Zealand and Taupo the perfect remedy. We were able to have some relaxing swims at Taupo Baths, dine at our favorite restaurants like BodyFuel, and catch up with our Kiwi friends. Aaron was able to go fly fishing every day with some old and new friends and caught and released some beautiful trout in the picturesque streams. We could relax at night on our porch or streaming Netflix shows in our room; once again, a good recipe to loosen the strained muscles.
Race day came and we knew it would be a terrific battle because of the impressive girls on the start line. It was an honor to be on the same course as legendary Sam Warriner in her last professional race. Up and coming Kiwi standout Amelia Watkinson and the worthy Laura Siddall were also toeing the start line so nothing was going to be easy. There is not too much color to give on the race because all I can genuinely remember is that it was a bit painful on many levels! What I remember the MOST was sprinting like I was being chased by a raccoon (I'm terrified of raccoons!) the last few miles to maintain position over fleet-footed and vibrant Amelia and thus, the finish line couldn't have come soon enough! Once again, Taupo pulled off an amazing race with gracious spectators and fierce competitors in a fantastic setting! From this moment on, I was REALLY looking forward to the next few days in New Zealand to cap off the year, the season and the remarkable race experience in Taupo.
Aaron, unbeknownst to me, had started researching the trip to Taupo back in August. New Zealand is home to some of the best sporting lodges in the world and he researched all of them with the hopes of finding that perfect spot where we could have some much needed downtime. The year prior we spent a few days with my in-laws in Napier which is the north islands wine country; this was magnificent! He discovered that his dream location was located forty-five minutes outside of Taupo; a beautiful place called Poronui.
He reached out to our Kiwi network to see if someone knew an individual associated with the sport lodge. As fate would have it, our friend got us in contact with Poronui and we secured two nights at the fabulous resort! It was fortuitous and meant to be that we were able to relax at such an amazing place in the middle of such picturesque country. We arrived being greeted by the assistant lodge manager Claire Hall and shown to our cabin overlooking a gorgeous river and opening up to the parts of the enormous property. After unpacking in the cozy cabin, we ate a world class brunch at the main lodge, meeting the chefs and team that would make our stay so pleasant.
We then meandered the property crossing the river, watching the many herds of deer in amazement, exploring the stables, playing pool, petting horses, and just unwinding without caring about the craziness of the world or about TIME. At night, we enjoyed some world class New Zealand wine and mingled with the others who were staying on the property. There were people from all walks of life having different professions, yet all converging on Poronui because of their love of the outdoors, tremendous accommodations and fly fishing. You eat a five star meal with the others at the lodge, your guides, and sometimes the lodge manager. This is where we met the gracious Eve Reilly, the lodge manager, who shared stories about the history and future of the property. Aaron also met his guide, Paul McDonald, and they made preparations for the guided fishing experience the next day.
After having a little bit more wine by the fire in the lodge, we retired to our cabin and fell asleep to another roaring fire. Aaron's parents surprised me by so kindly getting me a massage as an early Christmas present which was SO appreciated. The masseuse came right to your cabin and it was an hour and a half of pure bliss. I then relaxed, read, hydrated, and occasionally checked email – the definition of having a day with nothing on your plate. I explored more of the property, getting the muscles moving a little bit to push out the lactic acid, and enjoyed the sunset.
Aaron's day was a little bit different in that he and Paul stalked Scottish strain brown trout on the magnificent river flowing through the property. This was his happy place! In the morning, there was a chorus of helicopters flying to the property and taking patrons off to rivers in the area, untouched by roads and human contact. Maybe next time Aaron will be carted off to these rarely touched waters but he had his sights on the river right below our cabin with some of the healthiest, strongest, and colorful brown trout in the world.
Aaron described the day as glorious and wound up catching two beautiful six pound brown trout. Paul said it was a slower day than normal but he did a tremendous job of leading Aaron to the fish, putting him in a good position to make a quality cast, and trying to unlock the secret if they weren't hitting. His mastery net work definitely saved his last fish from getting tangled in some roots that would have snapped the line. In all, we had two very different days but equally enjoyable in their own right. Aaron is chomping at the bit to go back and take a helicopter right off to a picturesque New Zealand river in the middle of nowhere.
The bottom line is if you like the outdoors, enjoy relaxing, world class meals, sitting by the fire, clean air, amazing scenery, fly fishing, and spending time with like minded individuals who happen to be on the property at the same time as you, Poronui is your place – we can't stop talking about it. In addition to fishing, there is mountain biking, field archery, shooting, walking and running trails, horse riding, and world class hunting. There are many options for lodging including a safari camp, the stables and around the lodge; they all looked very inviting.
Although this seems like an infomercial for Poronui, the lodge just makes people happy and wanting to talk about it. For further information, check out the website and Facebook page below. Through Aaron's research, he also studied the articles and links included below. Going to New Zealand should be on everyone's bucket list in part because of places like Poronui – what a gem of a spot!
https://www.facebook.com/poronui
https://twitter.com/PoronuiLodge 
http://www.tripadvisor.com/Hotel_Review-g7806210-d273907-Reviews-Poronui-Taharua_Waikato_Region_North_Island.html
http://www.myalaskanfishingtrip.com/blog/view/best-places-in-the-world-for-a-one-week-fly-fishing-vacation
http://www.nzherald.co.nz/travel/news/article.cfm?c_id=7&objectid=11560811
Best luxury hunting and fishing
Poronui Lodge
If you're craving nature, but you don't want to be deprived of comfort or luxury, set a course for Poronui Lodge – preferably by helicopter, although a car will do. Forty minutes from Taupo along SH5, Poronui (Maori for "part of something bigger") is approached through towering working forests and is regarded as one of the world's finest luxury wilderness lodges. Set on 8200ha of farmland, you'll be torn between staying in the lavish lodge, in one of the cabins, or going glamping down by the river. Fly-fishing and hunting are the main attractions but you can also go horse riding, mountain biking, enjoy cultural experiences or spa treatments. This is the kind of place where, whatever you want, you can have it. – Elisabeth Easther